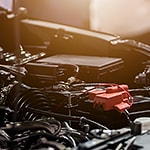 Believe it or not, car batteries tend to die more often in summer than in winter. But, when you're stuck on the side of the road with a dead battery on a frigid day, that may seem questionable. The truth is, batteries tend to die more when temperatures are very cold or very hot.
Lead-acid car batteries work during almost all weather. However, they work better when temperatures are not extreme. In winter, the cold reduces the battery's capacity. At freezing, it's down 20 percent. And it gets lower as temperatures drop. That means less power is available to start the engine.
When temperatures are in the 80s and 90s, the battery's capacity is actually higher. But, the chemistry behind this increase of capacity actually shortens the battery's life. To keep your battery running as long as possible, get it serviced here at Royal Volkswagen of Bloomington. We want you to be informed.